It's Christmastime, and the stockings are hung by the mantel with care — and hopefully (by now) your
nails are polished
to festive perfection. But did you just reach for a shade of red or green nail polish, or think outside the box with some fun designs? We're feeling inspired by the custom Christmas nail art designs that we've seen all over Instagram — including looks you can easily DIY and ornate details that you might want to have a
professional execute
. But what to try first? Luckily, there are endless cute Christmas nail art options to choose from. From candy canes to glitter, snow globes to snowflakes, this list of impressive manis has it all. And if you're feeling like a design on every nail might be too ambitious (or just too much!), we also have some nail art ideas that include accent nails (or a "party" nail) to spice things up without being too loud. 'Tis certainly the season for sparkles. Now, without further ado, please meet the most adorable ways to paint your nails this winter. Whether you're on the naughty or nice list this year, you're sure to turn heads with these Christmas nail designs.
1. Holly Chic
San Diego, California based nail artist Jess Smith painted this chic Christmas holly look that's easy to recreate at home with a nail art tool kit. You can mix and match your shades of green and red for a more unique look.
Credit: Jess Smith
2. Rudolph
If you are looking for something simple, but creative, you can add a minimalist accent nail on the ring finger like this cute rendition of Rudolph the Red-Nosed Reindeer.
Credit: nail artist Shae-Lynne
3. Pink and Blue
Even though it's Christmas, you don't have to limit your color palette. This pink mani is complemented with blue and just a hint of red — but tiny Christmas trees keep it seasonal.
Credit: nailart.bycaroline
5. Christmas Tree Accents
Tired of the red and green theme for Christmas? Why not try some different shades of green and add some white and gold details? This Christmas tree accent nail is very unique and would look stunning with any look!
Credit: nailart.bycaroline
6. Christmas Globes
How cute is this? Just the snow globe on a plain white nail will look stunning! If you are looking for something more creative, try adding a globe on one accent nail and another nail with some snowflakes.
Credit: @ira.nailart
7. Botanical Deep Red
Golden leaves and flowers make a maroon manicure more festive. With a thin nail pen and some practice, you can achieve this manicure at home.
Credit: @vanityprojects
8. Christmas Sweater
This stunning red and white design is simple and can be done at home! All you need is a Christmas stamping plate and some red and white polish.
Credit: Chayil Kotze from Crystal Clawz
9. Red Nails with a Snowman
You can't go wrong with a snowman for winter and this red and white snowman design is perfect! Red is always a very festive color and everyone loves a bit of snow. By only painting the snowman on one nail rather than all of them, you're making your own life a lot easier. It's quicker and it doesn't matter if you can't get them all to match!
Credit: @judyrox
10. Elegant Snowflake Nails
If you want something more elegant than novelty for winter, check out these stunning designs. Having the glitter and snowflakes at the base of the nail rather than the tip helps to keep things modern and the snowy-white and blue ' extras add a little something special to the mix. The good thing about all of these nails is that it doesn't matter if you fluff them up a bit. They don't all need to look the same.
Credit: @jauntyjuli
11. Glittery Green
If you like showstopper nails, go for a glittery green with a statement Christmas tree just like Swedish nail artist Maria did here.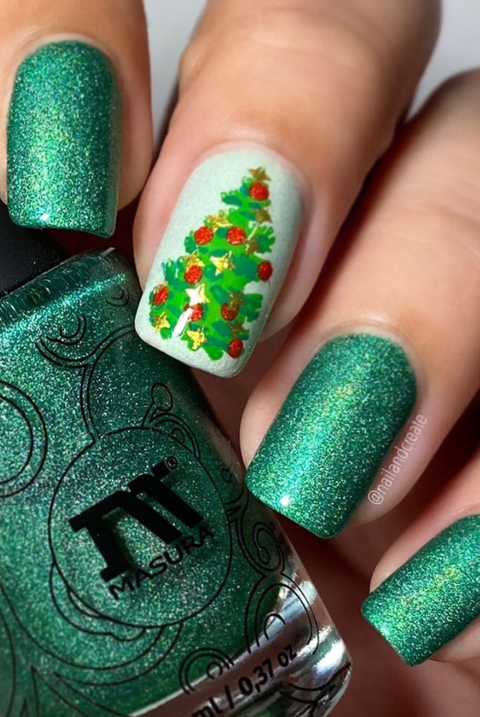 Credit: Maria
12. White and Black
Sometimes a classic and clean black and white nail art design, like this tree motif by Henson, can be a pretty monotone manicure for the holidays.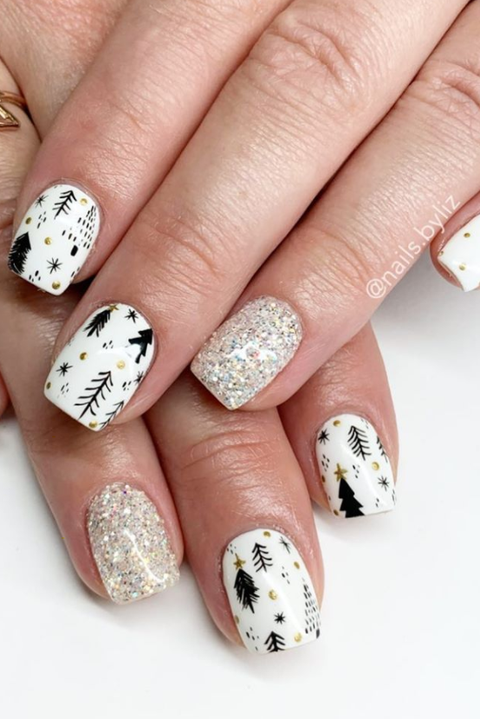 Credit: Henson
13. Negative Space Christmas Tree
This design is a funky way to get into the holiday spirit. Something a bit less traditional but still stunning!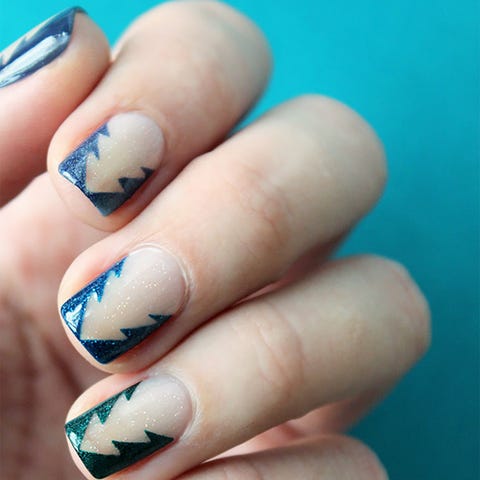 Credit: So Nailicious.
14. Cute Candy Canes
These itty bitty candy canes look sweet enough to eat. We love the fresh mint-green background.
Credit: Coco's Nails.
15. Mix and Match Christmas
This jolly manicure alternates between glitter, festive stripes, and tiny Christmas trees.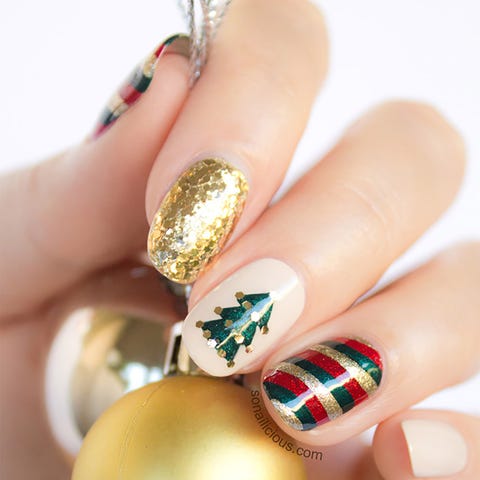 Credit: So Nailicious.
16. Candy Canes
Sweet treats galore, including candy canes, gingerbread houses, and holiday lollipops, make for a delightfully red and white theme! And makes one perfect Christmas nail design!
Credit: @nailpromagazine
17. Christmas String Lights
Customize this Christmas string light nail art by painting these colorful bulbs on top of any hue of your choice. Have a little fun and use glow-in-the-dark polish for the bulbs.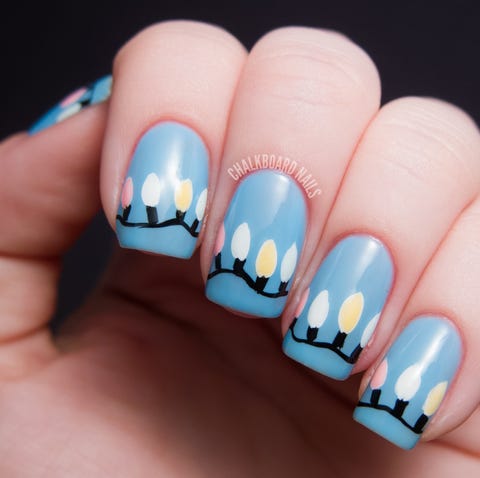 Credit: Chalkboard Nails.
18. Ho Ho Ho
If you're looking to take a red manicure to the next level this Christmas, try out this fun "ho, ho, ho" design by
Utah-based nail technician Liz Henson
.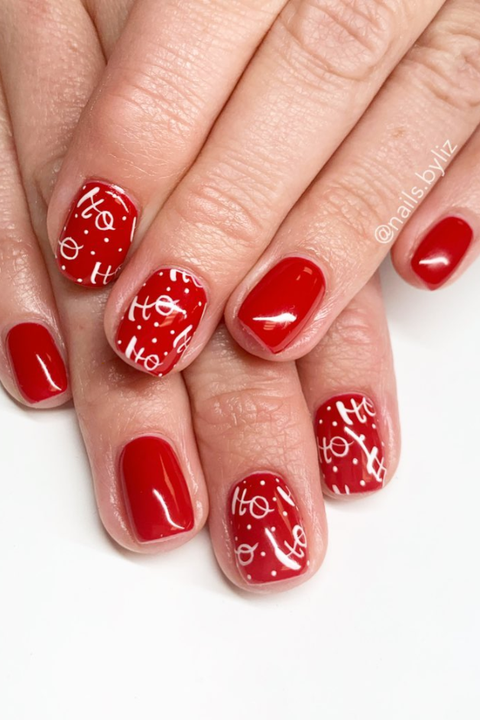 Credit: Liz Henson
19. Multi-Starred Nude
Star light, star bright! This manicure has both glittery and hand-drawn stars, so you don't have to pick between the two.
Credit: @annalovesneutrals